We understand how devastating hurricane damage can be. If you and your family suffered damage to your home, business, or other insured property during a hurricane in Florida, our team is here to help you get the payout you deserve. Let us help you understand your insurance policy, file your claim, prove the value of your damages, or fight a claim denial.
At the Landau Law Group, we know how hurricane damage insurance claims work, and how to beat the insurance companies at their own games. Call us today at 866-703-4878 for your free case evaluation and let a Florida hurricane damage claims lawyer get started on your case right away. Our case consultations are free, feel free to speak to us as soon as you can.
Let Us Explain Complex Homeowners and Hurricane Insurance Policies
Insurance companies are not always clear on exactly what their policies cover and what they do not. We recommend looking over your policy before you need to use it to ensure it covers everything you need. If you need to file a claim for Florida hurricane damage now but are not sure what your policy covers and when, we can help you understand your coverage for your home, business, or other property.
In general, your homeowners insurance policy will cover wind damage during a hurricane. Hail damage and lightning damage are also frequently covered. Many do require separate deductibles for hurricane damage, and this may be a percentage of your full property value.
A traditional policy is unlikely to cover damage from flash flooding or storm surge, but if you have a separate flood insurance policy, we can help you pursue compensation from that claim as well.
In addition to understanding your coverage, a Florida hurricane damage claims lawyer can help you navigate the process and fight for the payout you deserve if the insurer:
Denies you have coverage
Claims there is a hurricane or wind exclusion on your policy
Attempts to delay processing your claim or paying you for the damage
Undervalues your damage
Other situations when they refuse to payout what your policy covers
The Landau Law Group Can Pursue the Insurance Coverage You Paid For
When a serious hurricane hits Florida, thousands of people file insurance claims at once, and each insurance company must pay out millions of dollars to cover these claims. Insurance adjusters will want to save their company's bottom line by limiting how much they pay out.
For this reason, it is important to know exactly what your policy covers and your policy limits, so you will know if they are giving you a fair settlement offer. Alternatively, you can reach out to our team, and we can help you understand your coverage and file a claim on your behalf.
At the Landau Law Group, we can help you understand what you are paying for with your premiums and explain your deductible. We can also help if:
You are already fighting your insurance company
You have concerns about the insurance company offer
You need to appeal a denial
Give us a call today at 866-703-4878 to learn more about how we can help you and your family get back on your feet after a hurricane damages your home or property. We only get paid if we get you a recovery.
Recoverable Damages From a Florida Hurricane Insurance Claim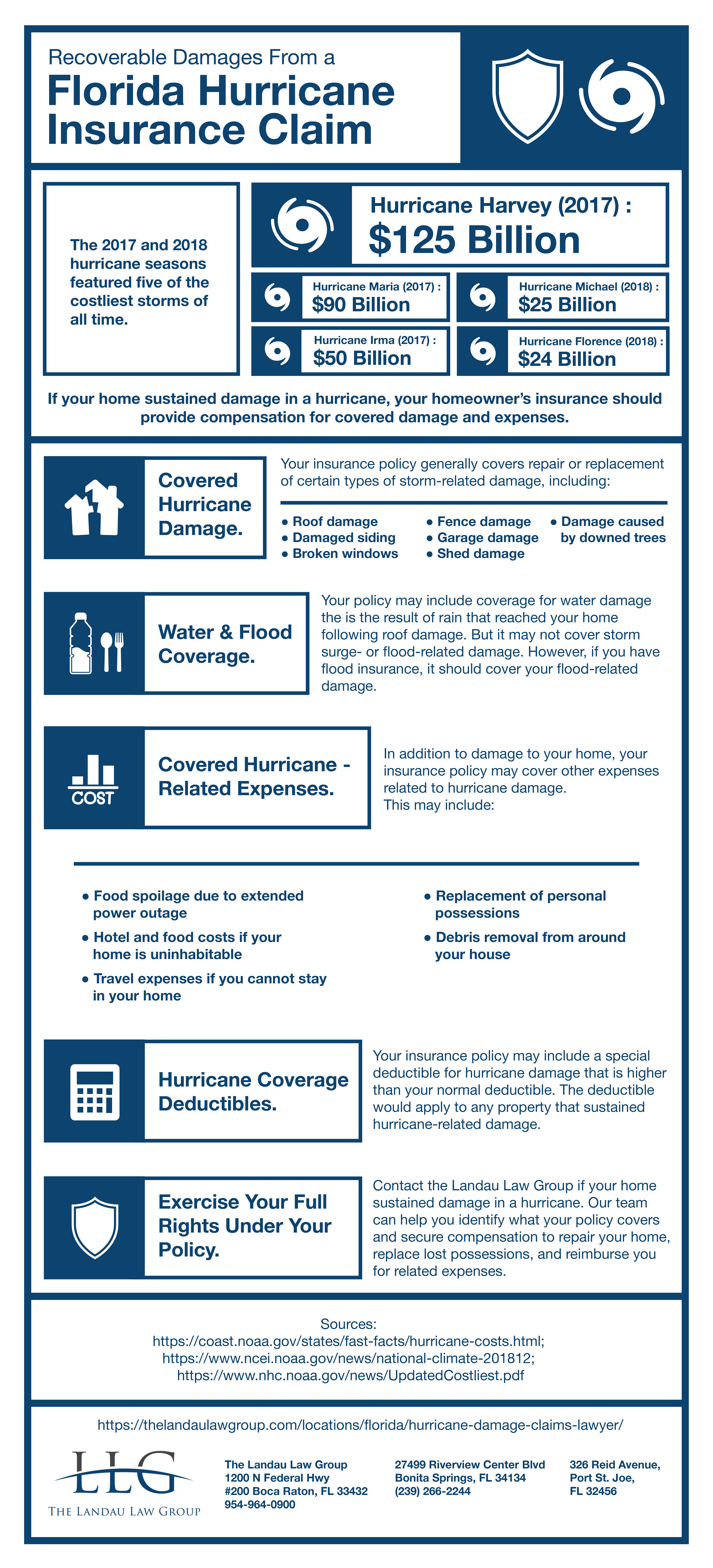 If you have never gone through a serious hurricane, you may feel unsure about what your insurance policy should cover. While policies differ from company to company, in general, your homeowners insurance should cover repairs or replacement for the following types of damages:
Roof damage
Property damage caused by downed trees
Damaged siding
Broken windows
Water damage because of rain that fell following roof damage
Food spoilage and other damages related to an extended power outage
Garage, shed, or fence damage
While most homeowners insurance policies should cover water damage caused by rain coming through a damaged roof, you are unlikely to see a policy that provides coverage for flooding or storm surge. High winds are the most damaging part of most hurricanes, but flooding is also a concern in low-lying and coastal areas.
If you have flood damage in your home or business, we can help you file a claim based on your flood insurance policy as well.
Act Today to Learn More About the Payout Your Insurance Companies Owes You
You pay premiums every month so that you can file claims and recover the money you need to repair or replace damaged parts of your property. When it comes to filing a claim, though, things do not always go smoothly.
If your insurance company balks at your claim — or if they offer too small of a payout or drag their feet in processing your claim — it is time to call an attorney to learn more about your rights and how this process should work. We offer free case reviews and can explain your legal options for going after the payout you need to repair your home.
We can also help you if you have not filed a claim yet. Enlist our help early in the process to ensure you do not have to bear the weight of dealing with the insurance company. Our team can take care of it.
Talk to a Florida Hurricane Damage Claims Lawyer
At the Landau Law Group, our attorney can help you go after the financial recovery you deserve based on your insurance policy. We will work directly with your insurer or can take your case to court if necessary. A Florida hurricane damage claims lawyer can handle every step of the process or step in to take over no matter where you are in the process. We do not charge you out of pocket and also handle personal injury cases.
We understand the stress that conflict and disagreement with your insurance company can bring. We want to get your family's everyday lives back to normal as soon as possible. Let us fight for the payout you deserve. Call us today at 866-703-4878 for your free case evaluation.